What Is Outsider Art?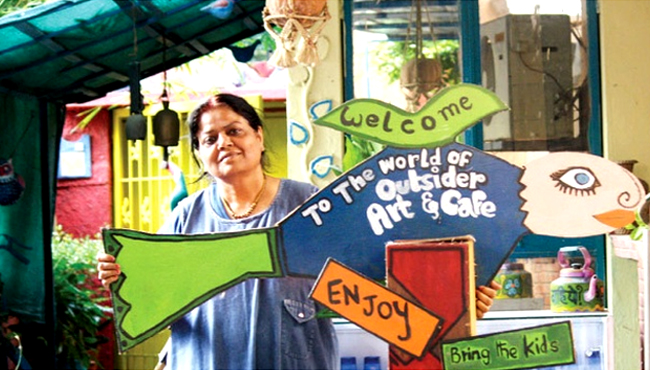 To delve deep into realms of any art form you need to be immersed in it. Self-taught artist Shubhadarshini Singh's tryst with Outsider Art moved her so much that she felt the need to have a space that would become a meeting ground for artists belonging to various genres to come together and discuss art over tea/coffee and finger food. She wants to promote Outsider Art through a cafe in her Shanti Niketan home's backyard in Delhi, aptly named Outsider Arts Cafe.

Shubhadarshini can be called a crusader of Outsider Art in India as she strives to discover and promote such talent. Outsider Art and artists she explains, "are people who are not mainstream artists and are not just Madhubani or Warli (and other) practitioners. They are people who work outside the mainstream, don't necessarily exhibit their works and some don't even know they are Outsiders."

While she strives to discover such art and artists hidden in various cultures and social environments, Shubhadarshini launched a quaint cafe in her home. "I want artists to meet here and discuss art, hold workshops, exhibitions, talks and so on. The aim is to promote Outsider Art in particular and provide a platform for artists. This would be their space and they can decide how long to sit here over tea, coffee and finger food. If they want, they can carry their artworks here and continue to work," she says.
Shubhadarshini, who started making rag dolls to counter depression induced by diabetes, stumbled upon Outsider Art on the web. Since then, she has been following Outsider Art and thinks of it is "as a great medium of expression". So much so that her cafe looks nothing short of an assembled art piece with curios scattered all over.

Shubhadarshini plans to add a guitar so that those in the mood can lend music to all ears. "It is a total democratic place," she says.